Themes for Luminarias
At FLIC Luminaries, we are thrilled to see the endless possibilities our products bring to our customers. From illuminating homes and businesses to creating breathtaking outdoor spaces, the uses for our luminaries are endless. We are always excited to hear new ideas and ways our customers envision using our products. Whether you're an event planner, business owner, or simply a homeowner looking to add a touch of magic to your space, we want to hear from you! We believe that together, there is nothing we can't achieve. So please reach out to us with your ideas and let's bring your vision to light.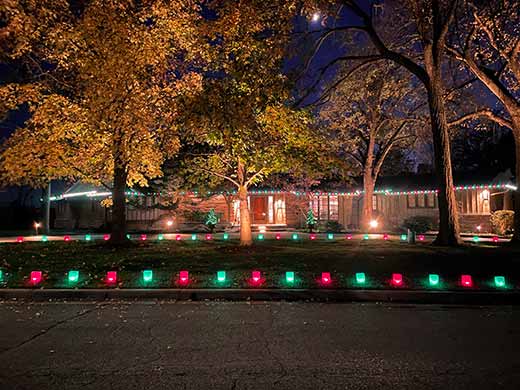 Holiday Luminarias
FLIC Luminaries is committed to creating beautiful and unique lighting options for the holiday season and beyond. We have expanded our offerings to include a wide range of options for various holidays and events, ensuring that we have the perfect lighting solution for every occasion. Our luminaires offer a classic and elegant lighting option that sets them apart from other holiday lighting choices.
We offer a wide selection of colors to meet all your holiday needs, including white, brown, red and green luminarias for Christmas, green luminaries for Saint Patrick's Day, decorated orange and orange luminarias for Halloween. And now multi-color luminary sets in your favorite holiday colors, like red-white-blue luminarias for Independence Day (and all patriotic events), red-green luminaries for Christmas, yellow-green-purple luminaries for Mardi Gras, and rainbow luminaries for birthday and pride events.
We are always looking for ways to improve and innovate and will continue to add new options in the future, including a special selection of summer colors for your festive summer parties.

Business Luminarias
Luminarias are an increasingly popular choice for businesses looking to add a touch of warmth and festivity to their events and promotions. They are a versatile and cost-effective way to create a memorable experience for customers and clients.
Auto dealerships, for example, use luminarias to draw attention to new car models, special promotions, or a cozy holiday ambiance. Hotels and restaurants use them to create a warm and inviting atmosphere for customers, particularly during the holiday season. Shopping centers and malls use them to add a festive touch to the holiday shopping experience.
Municipalities and local business districts also use luminarias to help promote their holiday themes and add warmth to their streets and public spaces. This can help to attract visitors and shoppers, boost local commerce and create a sense of community.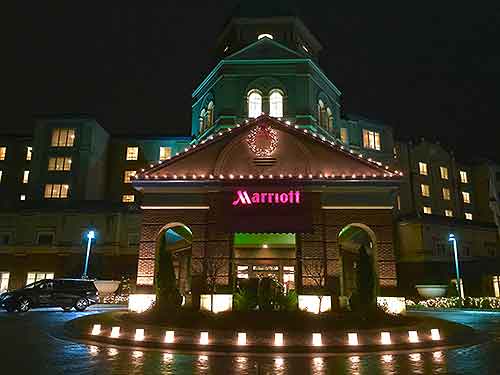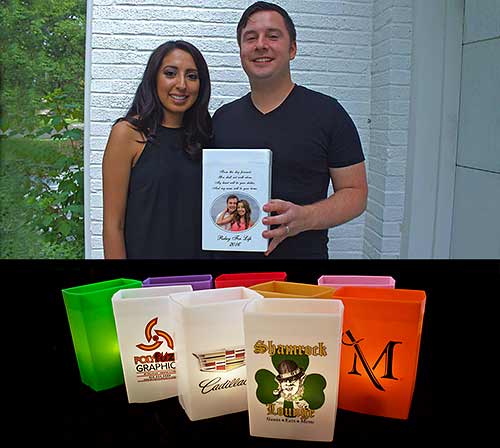 Printed Luminarias
Are you ready to light up your next event in style? Introducing FLIC Luminaries' 4-color printed luminaries, the ultimate way to add a unique and unforgettable touch to any occasion!
These customizable luminarias offer endless possibilities, with the option to print on the front or all sides for a full-wrap effect that will leave your guests speechless. Imagine walking into a room filled with luminarias bearing your company's logo or a special message!
Indoor luminarias offer a convenient "kit" form, complete with a single-socket light string and an on/off switch, or for a truly mesmerizing experience, add a LED tea light for a cordless option that will leave your guests entranced.
These printed luminarias are perfect for fundraising, recognition, promotional, and advertising events. Whether you want to make a big impact with large quantities of the same design or want a one-of-a-kind creation with our print-on-demand option, FLIC Luminaries has got you covered. Don't settle for ordinary, contact us today and let us help you create an event that will be remembered for years to come!

Homeowner Association Luminarias
Unleash the magic of the holidays with FLIC Luminaries! Imagine your neighborhood transformed into a dazzling display of luminarias, creating a breathtaking winter wonderland. And the best part is, you or your Homeowner Association can make it happen with ease, thanks to our specially designed website, HOAluminaries.com.
Not only can you purchase together and qualify for bulk pricing, but you can also raise funds for lighting common areas. Home owners buy luminarias for their own homes at discounted prices. Don't miss out on this opportunity to make your neighborhood the envy of the town this holiday season. Visit HOAluminaries.com today and let's bring the magic to life!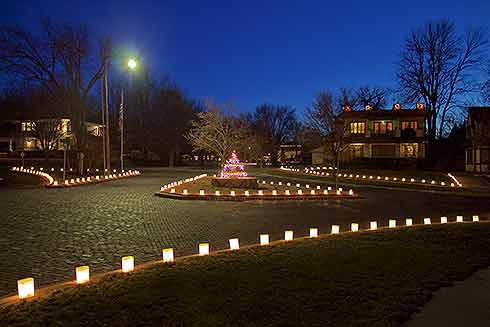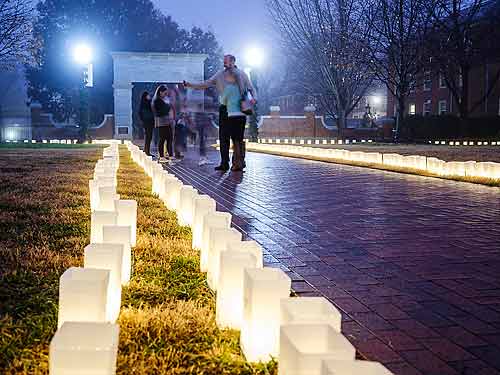 Special Event Luminarias
FLIC Luminaries are a versatile lighting solution for various types of events, including corporate, fundraising, and university events. One example is their annual use at Wake Forest University's Lovefeast event. The university has found our luminarias to be reliable in all types of weather and environmentally-friendly due to their durable, reusable design.
When it comes to lighting an event, the most important factor is the reliability of the luminarias. Our luminaries are designed to withstand wind, rain, snow, and ice, ensuring that your event will go off without a hitch. Trust in the reliability of FLIC Luminaries for your next event. "The show must go on!"

Ceremonial Luminarias
Our luminarias are the perfect addition to any special occasion, adding a touch of elegance and beauty to weddings, military memorial events, graduation and birthday celebrations.
Our white wedding luminarias are a popular choice for wedding planners, creating a romantic ambiance for the happy couple and their guests.
Our patriotic red, white and blue luminarias are a hit with military families, providing a warm welcome for our well-deserving soldiers.
Graduation parties come alive with our festive lighting, creating a memorable celebration for graduates and their loved ones.
And birthdays are made even more special with our rainbow-colored luminaries, adding a touch of magic to the special day. Contact us for free advice and let us help you make your next event truly unforgettable!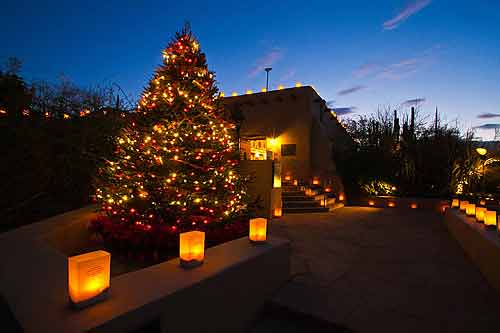 Botanic Luminarias
FLIC Luminaries is proud to be a leading provider of luminarias for botanical gardens across America. Our solid, commercially-constructed luminarias are the perfect complement to the natural beauty of botanic gardens, adding a soft, enchanting ambiance to the grounds. One of our favorite gardens to work with is the Desert Botanical Gardens in Phoenix, Arizona, where our luminarias help to highlight the stunning desert landscape on display. Not only do our luminarias add aesthetic appeal, but they also provide a sense of safety and guidance as patrons walk the designated paths.
And, as a company that values sustainability, we are constantly striving to minimize our environmental footprint by using energy-efficient LED light sources and implementing an eco-friendly consciousness by designing luminaries built to stay out of landfills (learn how).
Our Luminarias are not only beautiful but also a perfect way to enhance the natural beauty of botanical gardens while conserving energy. We invite you to explore the benefits of our luminarias and how they can enhance your botanical garden experience.

Fundraising Luminarias
FLIC Luminaries now offers a specialized luminary built to absorb inks from permanent markers, perfect for hand-decorating and creating personalized inside ambient lights. These luminary kits are excellent for fundraising events. We offer special products and services for Relay For Life events at our sister site Relayluminaries.com. Relay groups can setup their own ordering pages and build luminary events specific to their desires. Our recent addition of these special luminaries built for hands-on decorating is sensitive and special for families and friends to create their own permanent luminary keepsake to remember their lost loved ones.
For our schools, students decorate their own luminaries and usually have an auction where their parents and family members buy their keepsakes. Fundraisingluminaries.com is our most-recent addition where fundraising to schools and special groups are given special attention and opportunities, including online auctions directly on the website for each group through their own group webpage.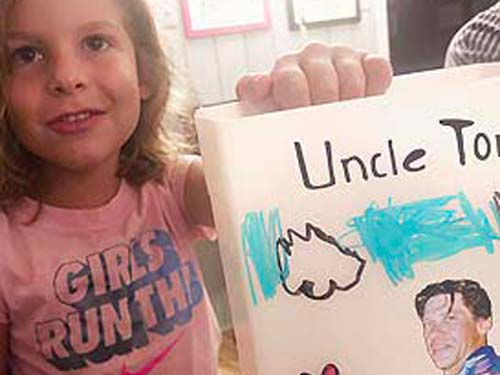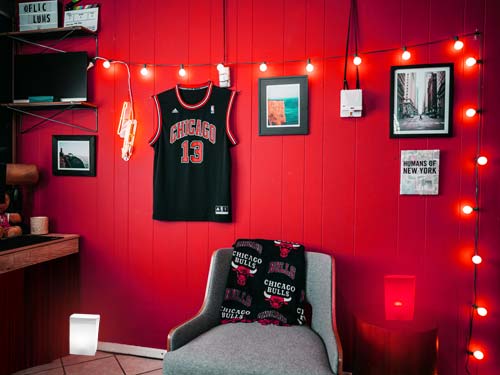 Sports Luminarias
Unleash your ultimate team spirit with FLIC Luminaries' new line of customizable sports luminaries! Imagine walking into your fan cave and being enveloped in a dazzling display of your favorite team's colors. These unique luminaries allow you to create a personalized look that perfectly matches your decor.
But that's not just for indoor! These luminaries are also perfect for lighting up your entire house, driveway, patio, or even your backyard for game day parties. Imagine hosting the ultimate game day party and impressing your friends with a mesmerizing display of team spirit that shines bright for all to see. Don't settle for ordinary decor, elevate your fan cave and make it a true shrine for your favorite team with FLIC Luminaries' sports luminaries.
Order yours now and be ready to be the envy of all your friends and family!