FLIC 10-Year Luminary Warranty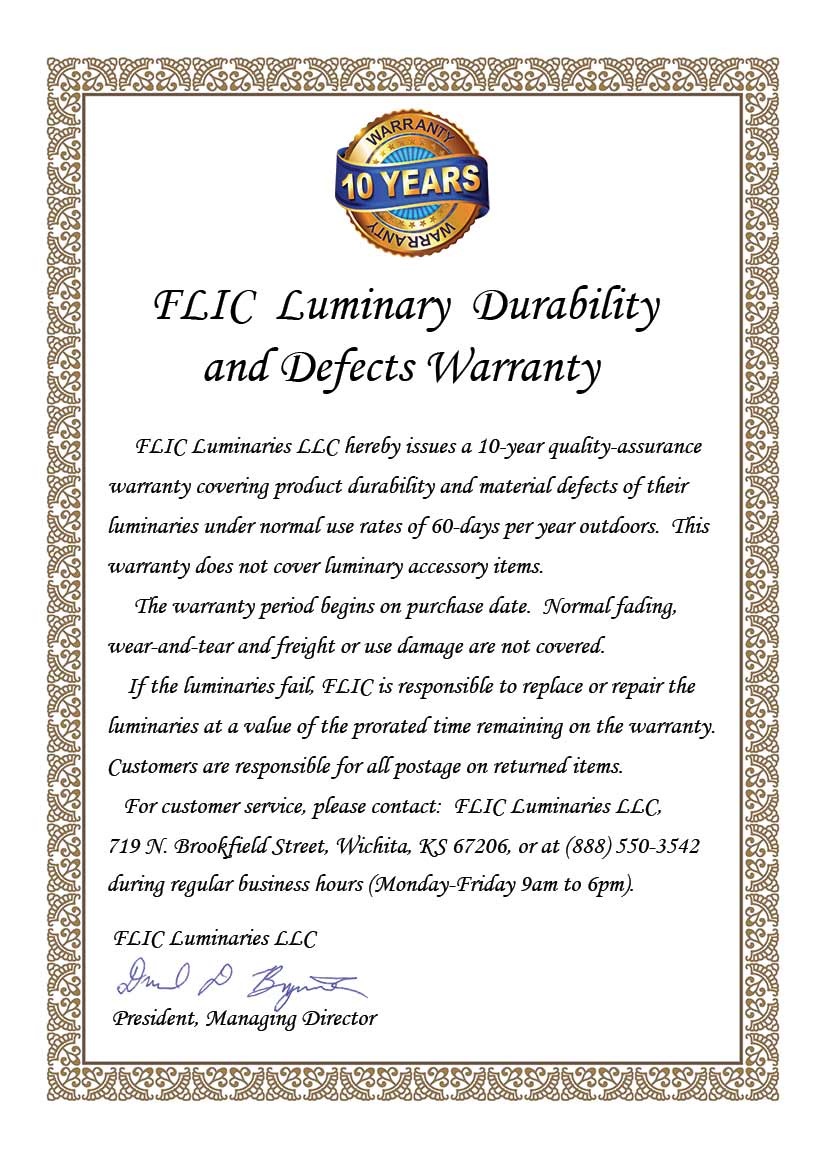 This ten-year limited warranty ("Warranty") is provided by FLIC Luminaries, LLC, 719 N. Brookfield Street, Wichita, Kansas 67206
This Warranty Is:
To you if you are a consumer purchaser of FLIC Luminaries.
What Is Covered:
Under normal use and service (at a usage rate of 60-days per year), your FLIC Luminaries should be free from defects in workmanship and material and should remain good for use for a period of ten (10) years from the date of purchase. This warranty is for luminarias only and does not extend to lighting and other accessories for sale on this site.
What We Will Do If The Product Fails:
If the product fails, FLIC will replace the luminaries in question as your sole remedy. FLIC will exercise its judgment and shall have the sole option to select the best method to remedy the failure.
Costs That You Will Be Responsible For:
You will be responsible for certain costs associated with the replacement of FLIC Luminaries. Costs we do not accept include prepaid freight and postage costs for products returned to FLIC, and the prorated cost of time in use.
EXCLUSIONS, LIMITATIONS AND EXCEPTIONS:
This Warranty does not apply and FLIC has no responsibility for: (1) freight damage; (2) abuse, misuse, improper or abnormal use and storage of the product; (3) repairs, including replacement parts, not provided by FLIC; (4) product used for commercial or rental purposes; and (5) normal wear and tear from overuse.
THIS WARRANTY EXCLUDES ALL CONSEQUENTIAL, INCIDENTAL, OR SPECIAL DAMAGES ARISING OUT OF THE USE OR PERFORMANCE OF THE PRODUCT INCLUDING BUT NOT LIMITED TO ECONOMIC LOSS, LOSS OF PROPERTY, LOSS OF REVENUES/PROFITS, LOSS OF ENJOYMENT OR LOSS ATTRIBUTABLE TO BREACH OF ANY WARRANTY MADE HEREIN.
This Warranty gives you specific legal rights, and you may also have other rights which vary from state to state. Some states do not allow the exclusion or limitation of incidental or consequential damages, so the exclusion of consequential or incidental damages may not apply to you.
Specified factory flawed luminaries only carry a 1-Year Luminary Warranty.
Warranty Duration:
This Warranty extends ten (10) years from the date of purchase.
Disputes:
Buyer and FLIC specifically agree that any controversy or claim arising out of this Warranty shall be settled by arbitration in the State of Kansas (as exclusive venue) administered by the American Arbitration Association under its Commercial Arbitration Rules.
Claims Procedure:
If the product fails, please notify FLIC LLC, 719 N. Brookfield Street, Wichita, Kansas 67206; phone 888-550-3542 during regular business hours (Monday-Friday 9 a.m. to 6 p.m. C.S.T.). Notification must be made within thirty (30) days of the discovery of the product failure. Upon receipt of such notification, FLIC will investigate the nature of the problem and perform its obligations as required herein.
If you want to learn more about our luminary warranty, visit our luminary warranty blog page.