The Arc's Lights on St. Paul (in Wichita) is the largest neighborhood Christmas lights display in the State of Kansas.  Over 1.4 million Christmas lights are on display in a drive-thru course that is guaranteed to put even the biggest Scrouges into the holiday spirit!
The extravaganza of Christmas lighting has several purposes, including adding more Christmas spirit to the city of Wichita. It also helps raise money for the Arc of Sedgwick County, a United Way member agency created to promote the general welfare of all persons with intellectual disabilities, to foster the development of programs on their behalf, and to increase the public's awareness and acceptance.
The Arc's mission is to improve the quality of life for individuals with intellectual and developmental disabilities and their families, providing educational and social opportunities to enhance development of individual potential while advocating for supports and services in the community. The Arc, through its seven major programs and hundreds of annual events, provides programs and services for more than 3,700 individuals living with intellectual and developmental disabilities including Down Syndrome, Autism, Epilepsy and Cerebral Palsy and their families.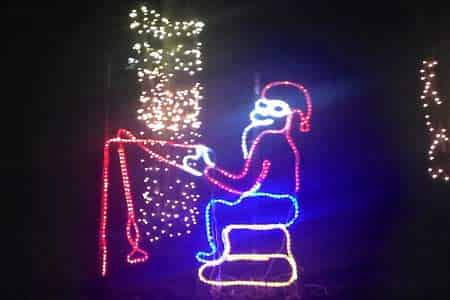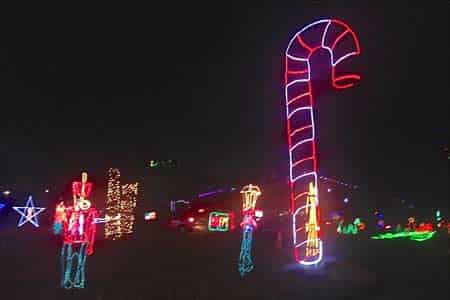 The Arc's Lights on St. Paul is a must-see for everyone in the vicinity. There are over 200 displays in a musical wonderland that make up the show.
The staff here at FLIC Luminaries seems to go through this exhibit several times a week. It has helped keep our holiday spirits high for the entire month of December!
A suggested goodwill donation of $5 per vehicle will help The Arc of Sedgwick County provide quality affordable programs and services for persons with developmental disabilities.
This light show is the best Christmas value available in the Midwest, and the community backs it up with high demand and traffic jams to get in every evening. It is worth the wait.
There are several displays we all really like this year. The fishing Santa comes up quickly, and we've never seen him catch a fish yet. He makes us all feel better about our own fishing luck. And the super-sized candy cane is big enough to satisfy anyone's sweet tooth.
In one display your car passes through what I call a "Christmas car wash" but instead of brushes and water jets you get a scrub down with pulsating Christmas lights.
Near the end of the show, you can make a visit to Santa and can hand deliver your Christmas list and take a photo on his lap.
We hope to support this event next year with the addition of FLIC Luminaries to the show. We have a year to come up with something special and memorable to add to the joy this brings so many people.
Can't wait to make it happen!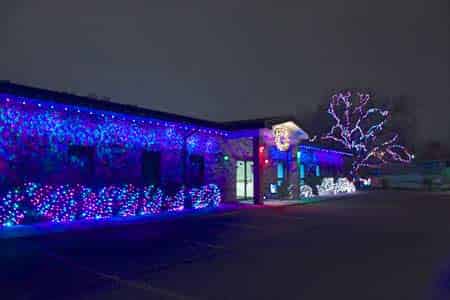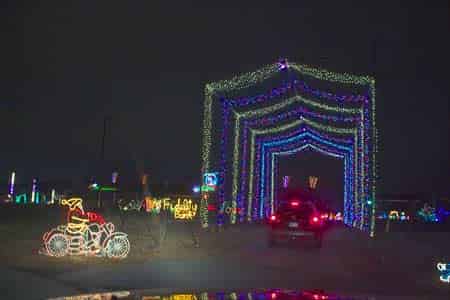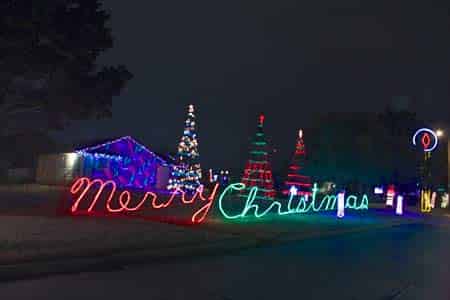 Lights Schedule
Sundays through Thursdays 5:30 pm – 9:00 pm
Fridays & Saturdays 5:30 pm – 10:00 pm (and Dec 22, 23 & 25)
Christmas Eve 5:30 pm – 11:30 pm
Photos with Santa
Fridays, Saturdays, Sundays & December 22 & 23
6:00 pm – 9:00 pm
Printed to take with you for a $5 donation